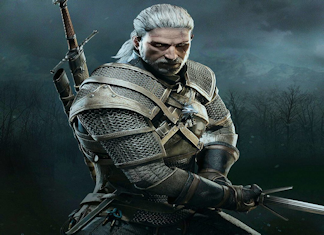 Logo of CD Projekt
Who is CD Projekt?
CD Projekt is a Polish video game developer that is currently one of the best publicly supported company's in the industry. They are famously known for The Witcher videogame series which is an action-role playing game in which the player controls Geralt, a Witcher. These original games are developed in house by the studio's development department CD Projekt Red.
It is likely that audiences have now heard even more about the studio from their upcoming game Cyberpunk 2077. This is another role-playing game set in a dystopian future where the player is a cyborg mercenary. If Cyberpunk 2077 turns out to be as successful as The Witcher series, CD Projekt will solidify itself as one, if not the top, game developer of this generation.
Why are they so popular?
Let's talk about why The Witcher series is so popular. The games are known for their deep storylines, role playing elements, and the impact that the player has on the story through their choices and actions. The games are known for having significant ramifications for actions you've taken that may have occurred 20 hours earlier in the game. There are currently 3 mainline games in the series. The latest of these has two expansions which can each easily last 10-20 hours in terms of gameplay. For many titles, this length of time could be considered a full-fledged game.
The thought and care that are placed into the CD Projekt games are one of the main set of compliments gamers have given the developer. This has translated into respect and admiration from the audience and players of the series. The games are single player experiences with no microtransactions. The storylines are deep and cause the player to evaluate the potential ramifications of their actions. The expansions are not milking the series for money as the games themselves are just as thorough and long as the base game.
Advocating for the gamer.
Interestingly enough, CR Projekt also founded GOG.com (originally known as Good Old Games) who is a digital distribution platform for video games akin to Steam. The main difference between GOG.com and Steam is its delivery of DRM-free video games. DRM (digital rights management) are controls that were put in place to prevent intellectual property from being copied freely though many people state there is not any evidence to show it actually stops copyright infringement.
The digital distribution of games has steadily grown over time along with DRM. As this occurred in the 2000s, players began to resent the industry and they felt it was infringing on their rights to play the games they loved. For example, if one purchases a single player game with DRM, they will likely be required to be connected to the internet in order for the game to run. This is why CD Projekt created Good Old Games in 2008. Ever since then, the service has been increasing in clout in gaming circles.
CD Projekt is now going to juggle two games at a time.
This past week has brought more good news to the Polish game developer. With The Witcher 3: Wild Hunt and its subsequent expansions, players did not know if this we would be the last they saw of this world. Now in its latest financial report, CD Projeckt announced they would be moving to a dual franchise model. The company has stated that "Managing two separate major franchises (The Witcher and Cyberpunk), along with several independent development teams, enables the Company to conduct parallel work on several projects and smoothens its long-term release schedule."
Many are super hyped for Cyberpunk 2077 which releases April 16, 2020.
This is a lot of excitement for the CR Projekt developer. They appear to truly be advocating for the gamer which is paying off both financially and support of their franchises and decisions. There is a lot to look forward to for players who are long-term fans of The Witcher and those hyped for Cyberpunk.