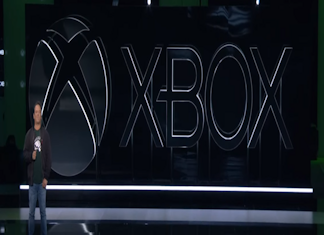 Microsoft's Xbox conference kicked off today at E3 2019 and a ton of exciting announcements were made. We'll be digging into more of the games below, but started by simply listing the various world premieres, exclusives, and game trailers that were showcased at Microsoft's event.
Phil Spencer, the head of Xbox at Microsoft, stated that Microsoft would have the largest showcase of games "on any stage, anywhere, this year." Microsoft, truly taking advantage of Sony's lack of participation at E3, would come to highlight sixty games total: fourteen of which are produced by Xbox Game Studios, and thirty-four premiering on Xbox Game Pass.
Here is what we were able to keep track of during the conference. Some games had more details released than others, but we will try to update with new information as we learn more. This is also a comprehensive list of EVERYTHING from the conference at a high-level. If you are looking for details of a particular game, we recommend doing a CTRL-F and typing the name of the game you are looking for. The list of announcements is separated into two sections: hardware/platforms and games.
Hardware/Platforms
Xbox Game Pass for PC
Games announced – Imperator: Rome, Football Manager 2019, Halo The Master Chief Collection
Open Beta for Xbox Game Pass for PC today June 9, 2019
This will seemingly include most, if not all, of the other games announced (Forza, Gears of War 5, etc.)
Will have over 100 games by August
Pricing: $9.99/month or $14.99/month for Xbox Game Pass Ultimate (this includes both the console and PC version of Xbox Game Pass and Xbox Live Gold)

Can currently bundle all subscriptions together to the end of your Xbox Gold Live membership for $1 (no end date has been announced for this promotion but it may only be active June 9th or potentially through the end of E3 but no promises)
Announced the Xbox Elite 2 Controller
Adjustable-tension thumbsticks
Trigger grip and redesigned bumpers
Shorter hair trigger locks
Wrap-around Rubberized Grip
Custom Profiles for different games
New rechargeable battery with detachable charging dock with up to 40 hours per charge
Microsoft xCloud
Microsoft's version of game streaming that will be making a preview in October 2019
No details were given regarding its pricing or a full release date
Project Scarlett
Xbox's new console that is currently under the codename 'Scarlett'
There were no details given of what the console will look like, its comprehensive specs, and pricing
High-level specifications stated that it will be four times more powerful than an Xbox One X
It will come with an SSD to shorten or remove load times and ultimately be capable of 8K video output at 120 FPS
Release date of Holiday 2020
Games
Bleeding Edge (Xbox First Party Game)
Developed by Ninja Theory
4v4 crazy combat in what appeared to be a similar vein to Overwatch
Technical Alpha that Starts on June 27th, 2019
Ori and the Will of the Wisps (Xbox First Party Game)
Huge monster boss fights
Release date of February 11, 2019
Minecraft Dungeons (Xbox First Party Game)
Dungeon crawler akin to the Diablo series set in the Minecraft universe
Includes magic, weapons, multiplayer co-op (both local and online)
Release timeline of Spring 2020
Star Wars: Jedi Fallen Order
Official trailer released during the conference
Largely showed footage from the gameplay trailer, but introduced some new aspects such as potential vehicle combat
Release date of November 15, 2019
Blair Witch (World Premier)
Some type of first-person, horror game based on the world first shown in the Blair Witch Project
There is a dog and I hope it doesn't die
Release date of August 30, 2019
Cyber Punk 2077
Official cinematic trailer of the game
The game will feature Keanu fricken Reeves, as he was shown in the trailer and came out afterwards to speak and tell the audience that they were all "breathtaking"
Release date of April 2016, 2020
Spiritfarer (World Premier)
Included a girl living on a boat with anthropomorphic animals
Included building up the boat and caring for its denizens
Release date of 2020
Battletoads (Xbox first party game, World Premier)
Some good beat 'em up action with the Battletoads Rash, Pimple, and Zitz
3-person multiplayer (includes couch co-op)
No release date shown
The Legend of Wright
Some type of quirky hand-drawn game, that looks like it mashes together a board game and some DND elements
Release date in 2020
Microsoft Flight Simulator (Xbox first party game, World Premier)
Incredibly realistic flight simulator showcasing different planes and different environments
No release date confirmed
Age of Empires II Definitive Edition (Xbox first party game)
Age of Empires II in 4k with remastered audio and a new campaign called 'The Last Khans'
Release date of Fall 2019
Wasteland 3 (Xbox first party game)
A role-playing game set in Colorado with some crazy, old drunk guy narrating during the trailer
Fairly entertaining trailer with a lot of mayhem going on
No release date confirmed
Psychonauts 2 (Xbox first party game)
Before info on the game, it was announced that that Microsoft had acquired the developer Double Fine
Third-person platform game with Raz, a Psychonaught, with mind bending 'psi-powers' like telekinesis and levitation
Game looks mind bending
No release date confirmed
LEGO Star Wars: The Skywalker Saga (World Premier)
All 9 Star Wars films condensed into one LEGO Star Wars game
Looks incredibly fun with loads of humor and typical LEGO hijinks
Release date in 2020
Dragon Ball Z Kakarot
Looks to tell the Dragon Ball Z saga via the character playing as Goku
The trailer showed a lot from the Saiyan saga with Vegeta and Nappa
The cutscene cinematics looked identical to the small snippets of gameplay from the trailer
Release date in early 2020
12 Minutes (World Premier)
An interactive thriller game about a man trapped in a time loop
Trailer had a top down view, and it seemed like the main character was trying to change the events in the time loop they were stuck in
Release date shown as 'Coming Soon'
Way to the Woods
A game where the player controls a deer and fawn traveling through various environments including a department store and subway
The deer has some cool light up antlers and can head butt stuff
Release date in 2020
Gears 5 (Xbox first party game)
Can play 4 days earlier than the release date with Game Pass Ultimate
According to the developer studio head, the studio wants to do new things with this game in the franchise
A multiplayer tech test will be taking place on July 17, 2019
At Games Con in August, the Horde mode will be playable
Escape game mode was announced in which bombs are planted in the enemy hive and then you must escape
Escape mode is 3-player co-op (local or online)
If preordered or played in the first week via Game Pass, you get a cool Terminator skin
Release date of September 10, 2019
Dying Light 2
Trailer with loads of traversal and zombies all over the place
Looks similar to many other post-apocalyptic games
Release date in Spring 2020
Forza Horizon 4 LEGO Speed Champions (Xbox first party game, World Premier)
DLC with creative spin on Forza series by incorporating LEGO into the world
Cars and environment are made of LEGOs that can be driven through and broken in classic Forza fashion
Release date of June 13, 2019
Gears Pop (Xbox first party game)
Mobile game that is not normally my cup of tea, but looks like it would be fun for mobile game players
Combination of the Gears series with what appears to be Funko Pops
Includes humor and pre-orders were states as 'Coming Soon'
State of Decay 2 Heartland (Xbox first party game)
Expansion for State of Decay 2 with two different paths: one where a daughter is looking for her father, and one where a man is looking for a hero (neither the daughter nor the man have ever met the people they are searching for)
Both are brought to the same location looking for these missing individuals (I wonder if they are one and the same?)
Appears to have some type of base building/surviving element to it
Available Now!
Phantasy Star Online 2 (World Premier)
Announcement that Phantasy Star Online 2 would be coming to the west (currently available in Japan since 2012)
Massive cutscenes with announcements for the game were scattered throughout the trailer
Online action combat with cross-play, all the content currently from the game, and free-to-play
Release date in Spring 2020
Crossfire X (World Premier)
Another game, that has been very successful in Asia, was announced to be coming to the west
The game appears to be a gritty, tactical shooter similar to Tom Clancy's Rainbow Six Siege
Release date in 2020 (mentioned as coming to Xbox console first)
Tales of Arise (World Premier)
Looks to have two playable characters, one with a mask and sword and the other with a sniper rifle
Many elements look to be from your typical JRPG
Release date in 2020
Borderlands 3
New trailer was shown for the upcoming game that has all of the Borderlands typical fun – explosions, loot, action, and comedy
Included the classes Gunner, Beastmaster, Operative, and Siren
Also announced Borderlands 2 DLC – Commander Lilith & the Fight for Sanctuary which is available now!
Release date of September 13, 2019
Elden Ring (World Premier)
New game from Hidetaka Miyazaki and George R.R. Martin
Developed by FromSoftware
Crazy trailer with magical fantasy elements
No release date confirmed
Halo Infinite
A cutscene in what appeared to be the in-game engine was shown with Master Chief being found in space
He is booted up and then, of course, the action starts
Not much else is shown, but the game looks incredible and will be a good reason to get the Xbox Scarlett
Release date of Holiday 2020
The various titles below were announced with ID@Xbox and are all launching on Xbox Game Pass
Announced Games being added to Xbox Game Pass (Available Today!)
Batman Arkham Knight
Metro Exodus
Hallow Knight
Borderlands: The Handsome Collection